Subject to Innovation Pointe Staff approval before project can begin.

3D Printer (Prusa i3 MK3 S & da Vinci Jr Pro):
1.75mm PLA, Non-exotic (exotic filaments include wood or metal-based filaments)
Button Maker (2.25″ American Button Machine):
Copy paper (or thinner magazine cut out)
Cricut Maker
Construction paper
Cardstock
Thin vinyl material meant for Cricut
Digitizing (Wolverine, Elgato Video Capture, Epson Fast Foto FF-680W):
Media brought in must be compatible with converter 4"x6" inch landscape for fast scan, larger sizes as individual scan (8.5" max width) Note: Photos cannot have tape, sicky substance on back as it will jam machine.
Embroidery (Brother SE1900):
Non-stretchy fabrics:

Linen
Cotton
Silk
Wool
Thinner towels

As the machine requires a specific type of thread, a library of over 40 unique colors in the correct thread type will be available to use at no cost. Patrons may not use their own thread.
Lamination (Fellows Jupiter 2 125):
Material to be laminated must fit inside lamination pouch (12.5"x17.5") and have clearance through the machine. (Thin materials only max 10mil or .01 inches)
Laminate pouches of various sizes will be available for purchase in Innovation Pointe. Patrons CANNOT bring their own laminating pouches.

Laser Engrave/Cut (Epilog Helix Mini 24):

Due to safety considerations, materials are subject to Makerspace Specialist approval before project can begin.

*Not all listed material can both engrave AND cut. Up to date list is posted in Innovation Pointe
This machine has a 12×24" bed size, so your material must be 12×24" or smaller dimensions to fit.
The laser will cut through a maximum of 1/4″ wood and 1/8" acrylic.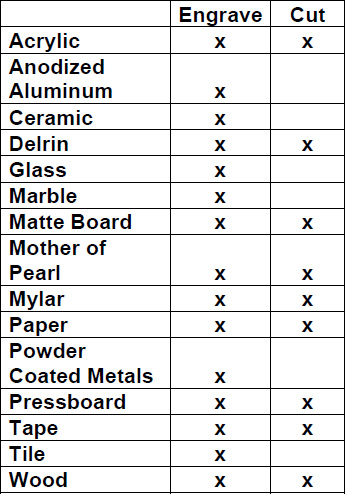 Vinyl Printer (Roland TrueVIS SG-540):

You may NOT bring your own material for this machine.

Sewing (Singer Heavy Duty 4423):
You may bring in your own fabric, no thicker than denim or canvas.
Two colors of thread, black and white, will be provided by the library for use with the sewing machine at no cost.
See the needle gauge on the So You Wanna Sew page to see if we carry a compatible needle for your material thickness.
Soldering (Hako)
Electronic parts & circuit boards

This soldering unit is suitable for electronics only. It is not made for soldering jewelry.

We provide solder at no cost.
Sublimation (Sawgrass SG800 Printer, Geo Knight Mug Press, Geo Knight Clamshell Press)
Fabric or t-shirts must by at least 60% polyester, light colors (without decals that could melt onto the press)
Materials used for sublimation must be made specifically for sublimation.
Other flat items, or sublimation blanks must be purchased already able to be sublimated (with a polyester coating).
Mug press items must be purchased from Innovation Pointe to ensure compatibility.